Want to show prospects you're the real deal? Use a bait piece. A bait piece is a giveaway that entices prospects to share their information with you because, in turn, they receive something of value.
A bait piece can help you make an excellent first impression—but only if you do it right.
In a recent post, I talked about why you need a bait piece, and shared some examples of good ones. Today, I'm giving you the dos and don'ts: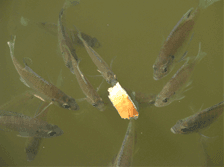 Give something away for free. When I talk about value, I'm talking about something you might otherwise charge for. This is the real way to show value.
Look at clients' needs, top concerns, and pain points. Nobody can benefit from a generic bait piece. Make sure it's created directly for your audience.
Put effort/time/money into it. First impressions are everything. If your bait piece is the first window you're providing into your business, don't you think it's worth the investment to do it right?
Be innovative. Go one step further than your competitors. Give your audience something more. Provide something different—that's needed—but often overlooked or ignored.
Make it visible. Once you've created this bait piece, promote it where people can see it. Add it to your blog, social networking profiles and other outlets, including your email signature. Spread the word.
Make it easy. If it takes 10 steps to get this valuable bait piece, people will lose interest. Have a simple sign up process, and just give it to them.
Don't make your bait piece an advertisement. This means no sales pitches, one-sheets or promotional language. Don't try to pass off your marketing materials as bait pieces. It's just going to annoy people.
Don't use outdated material. Update your bait piece to keep it relevant. Otherwise, your audience might view all of your company's offerings as outdated.
Don't call it a bait piece. The term is for marketing purposes only.  Please don't offer a "bait piece" on your website—instead, call it the specific, value-packed tool that it is.
People hesitate to sign up for newsletters. They're afraid you're going to send them nonsense (a lot of companies do). By offering something up-front with real value, it will show your merit. Follow the rules above, and you'll have a bait piece that gets, and keeps, your prospects interested.
Any other rules to add? Please leave a comment.