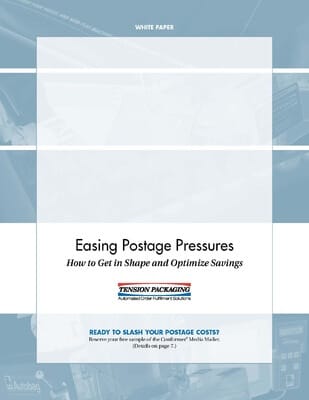 Right Size, Wrong Box
Like most businesses in today's competitive environment, fulfillment and mail-order companies are under increased pressure to improve efficiencies, streamline processes and strengthen customer relationships, while maintaining profitable margins.
Annually, Chicago-based Infinity Resources, Inc. mails more than four million pieces of media through the USPS, both from the company's internal orders and as a third-party fulfillment house. Because of the rigidity of the preformed cartons used to ship single CD's, the company's packages classified as a parcel under the restructured 2007 rates.
As a result, Infinity saw its postage costs increase by 166%, or $700,000 annually, and the company began looking for packaging alternatives.
Jim Shriver, vice president of warehouse operations for Infinity, found a promising solution when he stopped by a trade show booth sponsored by Tension Packaging and Conformer Expansion Products.
Challenge: Support business development efforts by creating a white paper that entices prospective clients to learn more.
Solution: White paper writers positioned the document as an educational case study with specific tips to help readers lower their postage costs.