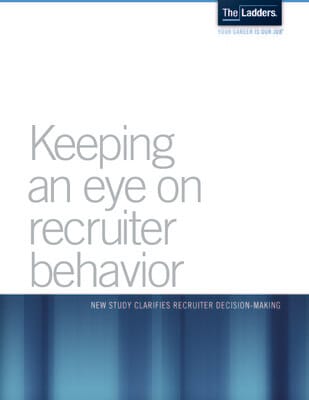 New study clarifies recruiter decision-making
Here is every job seeker's dream world: a place where they know exactly how recruiters' minds work; where the reasons for hiring decisions are obvious; where the criteria for an effective resume and job search are as clear as day.
Of course, that world doesn't exist. We can't read recruiters' minds, and certainly not with any level of scientific accurancy. Or can we?
According to a new report, TheLadders recently conducted the first formal, quantitative study of recruiters' on-the-job behavior. This groundbreaking research employed a scientific technique called "eye tracking" — a technologically advanced assessment of eye movement that records and analyzes where and how long a person focuses when digesting information or completing activities. The study gauged specific behaviors of actual recruiters as they performed online tasks, including resume and candidate profile reviews. Thirty professional recruiters took part in the study during a 10-week period.
The findings provided specific data regarding the following:
Individual resume and online profile details viewed by participating recruiters
Specific items that captured recruiters' attention during reviews
How long recruiters spent viewing each item
How quickly their eyes moved from item to item
What content was overlooked
It's tempting to call the results eye-opening, but they clearly offer valuable insight into recruiters' real-world behavior. The information is also useful to recruiters themselves for increasing efficiency and effectiveness.