Guest post by: Elliot Lewis
Whether you're presenting to clients, colleagues or the public, your presentations need to hit their mark.
Why is learning how to present well so important? A presentation is your chance to showcase your ideas, plans and knowledge; can make or break contracts; and has the chance to either inspire your audience or bore them to sleep.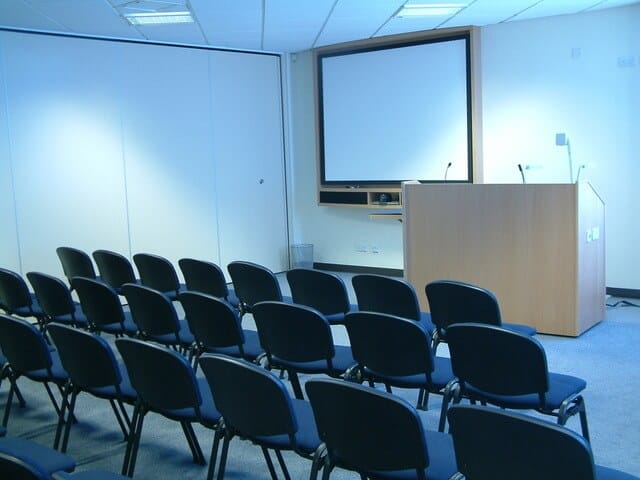 Embrace Technology
Simply standing in front of your audience and speaking on your chosen topic is not enough to deliver your message successfully. Readily available audio and video tools can help you make your presentations more captivating to your audience and get your message across in style.
Multimedia-fueled presentations have been popular for many years now. Such presentations may be created using programs like Microsoft PowerPoint or Adobe Flash, or – if you're looking for a free alternative – Open Office Impress. These programs allow you to combine relevant information with attention-getting media to craft powerfully effective slides.
Besides software, available hardware can help amp up your presentations. For example, interactive SMART boards can act as a canvas on which you can alter and edit the work presented on screen in real-time. Today's video-conferencing technology also allows you to broadcast your presentations live around the world from any location.
Social media can also be an important tool when it comes to presentations as it provides the power to share your presentations online and get instant feedback.
With all this useful technology now readily available to businesses and people alike, how can you ensure that your presentations stand out from the rest?
Set Up Early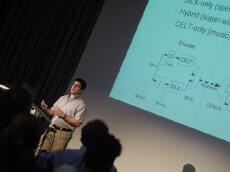 Be prepared. The key to any good presentation is preparation. And, while knowing your topic cold is just as important as knowing your audience, adding multimedia to your presentations opens the door to potential technical issues and you need to prepare for them.
Arrive at your presentation space as early as possible. While everything may have gone smoothly when you practiced your presentation at home, different locations can present their own challenges. Check that your equipment works flawlessly and then check it all again.
Rehearse your lines and know exactly which slide comes next. Using timed slides is not recommended as they don't allow for interruptions and don't give you an opportunity to expand on a subject that strikes a chord with the audience. There are plenty of tools that allow you to progress through your presentation without being stuck to your computer; it's worth looking at and investing in them instead of relying on a timer.
Don't be a robot. Although you should know exactly what you want to say, you don't want to drone on. Let the presentation flow naturally, and if worse comes to worst, don't panic. If you slip up, pause and take a breath. It's much more natural than um-ing and er-ing, and your audience will hardly notice.
Use Visual Aids Effectively
Your presentation should not be used as your script. While it's okay to display a few key bullet points or keywords, don't use them to cram information down your audience's throats. Keep it short, sweet and simple, and use relevant media that draws in your audience without distracting them.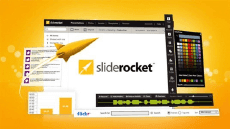 Use tools to your advantage. Online presentation tools such as Sliderocket or Prezi can help you create visually enticing, uniquely animated presentations. But be careful not to over use them or you'll detract from your overall message.
Incorporate branding. It's also important to think about branding. Your presentation may be saved and shared with others. If you're representing a specific company, make sure your presentation incorporates branding elements, like color scheme, fonts and logos.
Include your social networks. Give people a way to contact, follow and interact with you to get feedback on your presentation. Allow your audience to access your content later by uploading it to social networks and sites like SlideShare. Remember that the audience is investing its time in you, so make sure to use it wisely.
What tips would you add for creating great presentations? Please leave a comment – we'd love to hear your thoughts.
After working in the AV sector for over 10 years, Elliot Lewis is Managing Director of Visual Synergy, specialists in corporate audio-visual solutions, which he founded in 2008.