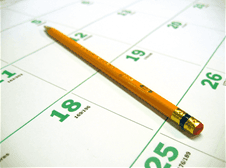 This post is the first in a three-part series on using an editorial calendar to streamline your content marketing efforts.
If you're like most small businesses that publish a newsletter, you struggle with content. Every month – or, more likely, every quarter – a small group gets together and beats their heads against the wall, trying to knock loose some fresh story ideas.
A little planning can spare you the recurring headache.

Companies that routinely produce newsletters – or other types of content, such as blog posts and press releases – find it easier to come up with ideas when they work with an editorial calendar.
Editorial calendars let you review your newsletter and content marketing at the big-picture level. In addition to pinning publications and topics to specific calendar dates, which increases the likelihood of timely publication, these nifty tools allow you to plan content across channels: newsletters, websites, blogs, social media profiles.
Analyze your current program
If you've already been publishing a newsletter, even infrequently, review past publications and their performance to get a baseline. If you're starting from scratch, check out our special report on newsletters.
Where have you been? Collect your previous publications and a calendar, as well as pen and paper, or a fresh word processing document or spreadsheet if you don't want to go old school. Jot down the articles included in each publication by month and year, and note any that are tied to an external event, like a holiday or industry trade show. (These are your freebies, the pieces that don't require fresh brainpower.)
Why did you go there? Look at the previous articles and determine why you wrote them. Were you responding to a customer question? Were you reporting company news? Were you desperate for a story the day before the newsletter was scheduled for publication? (Hey, it happens.) Write down the reasons. This step will get you started on categories.
Should you go back? Review any metrics you have of past newsletter performance. (This task is way easier if you're publishing an electronic newsletter.) Which articles were most popular with readers? Which ones bombed? Take notes. Then, consider your previous articles in light of company goals. Are you trying to attract larger clients and projects with bigger budgets? If so, think twice before publishing another article on cost-cutting. Mark an "X" by any topics that either put your readers to sleep or don't advance your larger business strategy.
Our next article in this series will show you how to use this information to create your editorial calendar.
Of course, if you don't want to wait – or if you want us to help you – please contact us directly. You can also download our free special report on newsletters right here.