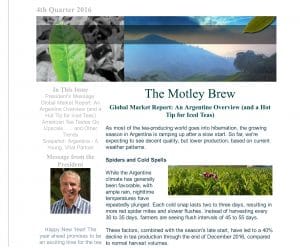 American Tea Tastes Go Upscale . . . and Other Trends
According to a report released last month, U.S. packaged tea sales reached a record $7.6 billion in 2016, and they're expected to hit $9 billion by 2020. These numbers reflect what we're seeing in the food service industry, as demand continues to grow for fresh-brewed iced tea.
What's fueling Americans' taste for tea?
Studies show that Americans are increasingly concerned with a healthy lifestyle, and medical science supports the many health benefits of tea. (Even better, it's delicious!)
Along these lines, more consumers are looking for premium products: more natural and organic ingredients, less sugar and preservatives.
Adding functional ingredients—substances that support a specific aspect of health—is another hot trend, along with new flavors and varieties.
New forms of tea are also hitting the market, such as sparkling teas and tea lattes.
If you're looking for ways to refresh your tea portfolio in 2017, give us a call.
Renewed Focus on Food Safety
Around the world, more countries are enforcing strict guidelines and educating farmers about the use of pesticides. Here at home, the FDA's Food Safety Modernization Act (FSMA) goes into effect later this year. The previous Hazard Analysis and Critical Control Points (HACCP) plan now morphs into Hazard Analysis Risk-based Preventative Controls (HARPC), which moves beyond safety controls to emphasize prevention.
Your partners at Henry P. Thomson are already ahead of the game. Our team has already completed training. This week, in fact, we're in the midst of our Safe Quality Food (SQF) re-certification audit. We'll share the results in our next issue.