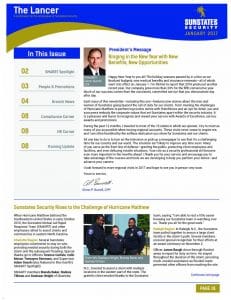 Sunstates Security Rises to the Challenge of Hurricane Matthew
When Hurricane Matthew battered the Southeastern United States in early October 2016, the Sunstates Mutual Aid Rapid Response Team (SMARRT) and other employees rallied to assist clients and communities in eastern North Carolina.
Charlotte Region
Several Sunstates employees volunteered to stay on-site, providing needed security during both the storm and the subsequent flooding. Special thanks go to Officers Terence Carlisle, Colin Moran, Tremayne Simmons, and Supervisor Adam Gooch.
SMAART members Brenda Baker, Rodney Tillman and Deshaun Wright of Charlotte, N.C., traveled to assist a client with multiple locations in the eastern part of the state. The grateful client emailed thanks to the Sunstates team, saying, "I am able to rest a little easier knowing our Sunstates team is watching over us. Thank you all for the great work."
Raleigh Region
In Raleigh, N.C., the Sunstates team pulled together to secure a large client facility in the storm's path. Several members received special recognition for their efforts at an award ceremony on November 2.
Officer James Baugh drove through flooded areas to report for duty on time. He stayed throughout the duration of the storm, providing much-needed assistance as flooded roads prevented other officers from reaching the site.
Officer Victoria Smith remained on duty throughout the weekend. She transferred perishable client products from the company store to a generator-powered refrigerator unit. Her quick thinking and initiative saved the client $15K in inventory.
Raleigh Headquarters
Members of Sunstates Security headquarters in Raleigh collected donations to aid those affected by the devastation and flooding. Human Resources Manager Laura Hall personally delivered the donations to the Food Bank of Central & Eastern North Carolina to assist in relief efforts.