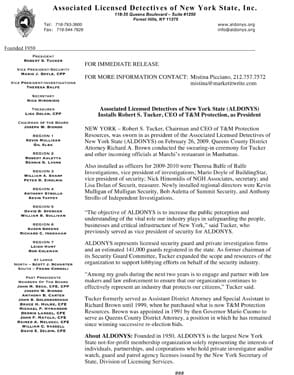 Associated Licensed Detectives of New York State (ALDONYS) Installs Robert S. Tucker, CEO of T&M Protection, as President
NEW YORK – Robert S. Tucker, Chairman and CEO of T&M Protection Resources, was sworn in as president of the Associated Licensed Detectives of New York State (ALDONYS) on February 26, 2009. Queens County District Attorney Richard A. Brown conducted the swearing-in ceremony for Tucker and other incoming officials at Marchi's restaurant in Manhattan.
Also installed as officers for 2009-2010 were Theresa Balfe of Balfe Investigations, vice president of investigations; Mario Doyle of BuildingStar, vice president of security; Nick Himonidis of NGH Associates, secretary; and Lisa Dolan of Securit, treasurer. Newly installed regional directors were Kevin Mulligan of Mulligan Security, Bob Auletta of Summit Security, and Anthony Strollo of Independent Investigations.
"The objective of ALDONYS is to increase the public perception and understanding of the vital role our industry plays in safeguarding the people, businesses and critical infrastructure of New York," said Tucker, who previously served as vice president of security for ALDONYS.
ALDONYS represents licensed security guard and private investigation firms and an estimated 141,000 guards registered in the state. As former chairman of its Security Guard Committee, Tucker expanded the scope and resources of the organization to support lobbying efforts on behalf of the security industry.
Summary: A professional organization for private investigators and security guard firms inducted a new slate of officers.
Placements: Appeared in several industry-leading publications, including The Security Letter,Government Security News and PI Magazine.