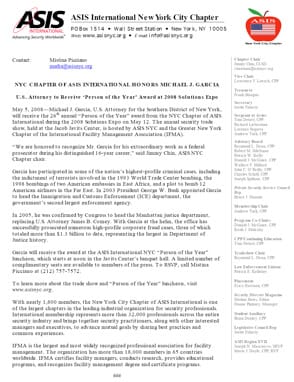 NYC CHAPTER OF ASIS INTERNATIONAL HONORS MICHAEL J. GARCIA
U.S. Attorney to Receive 'Person of the Year' Award at 2008 Solutions Expo
May 5, 2008—Michael J. Garcia, U.S. Attorney for the Southern District of New York, will receive the 26th annual "Person of the Year" award from the NYC Chapter of ASIS International during the 2008 Solutions Expo on May 12. The annual security trade show, held at the Jacob Javits Center, is hosted by ASIS NYC and the Greater New York Chapter of the International Facility Management Association (IFMA).
"We are honored to recognize Mr. Garcia for his extraordinary work as a federal prosecutor during his distinguished 16-year career," said Jimmy Chin, ASIS NYC Chapter chair.
Garcia has participated in some of the nation's highest-profile criminal cases, including the indictment of terrorists involved in the 1993 World Trade Center bombing, the 1998 bombings of two American embassies in East Africa, and a plot to bomb 12 American airliners in the Far East. In 2003 President George W. Bush appointed Garcia to head the Immigration and Customs Enforcement (ICE) department, the government's second largest enforcement agency.
Summary: A trade association of security professionals selected U.S. Attorney Michael J. Garcia as Person of the Year.
Placements: Featured in Security Director, ASIS NYC chapter website and other local publications.