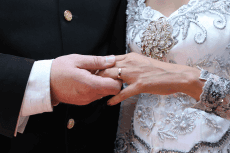 Last week, the store where my husband and I registered for our wedding sent me an email announcing their annual wedding band event. Having recently celebrated my five-year anniversary, I had a negative reaction. The store had my wedding date on file. Why waste my time with a notice about an irrelevant event?

Giving the devil its due
This particular retailer has an active email marketing campaign, sending three to four emails per week. Most of these promotions are general blasts sent to the entire list – like the one that irked me – but they typically do one of the following:
Offer gift suggestions for upcoming special occasions
Highlight a single designer or collection in their inventory
A couple of times a year, however, we receive special, targeted promotions:
An invitation to enjoy a discount throughout our anniversary month
A similar discount offer for the month of my birthday
We registered with this retailer for a reason, and I'm willing to tolerate the steady marketing stream on the off chance that something will catch my eye. Plus, I don't want to give up the "just-for-me" discounts at this spenny store.
Taking the next marketing step
Evidenced by the occasional emails tied to my personal information, this store has collected some valuable marketing data concerning me and my household. The folks running their email campaigns would likely see higher engagement and conversion rates if they did the following:
Identified potentially irrelevant promotions. The store appears to use a custom email management platform. Automatically segmenting subscribers by wedding date, for instance – flagging names after the happy occasion has passed – should be relatively simple, and it sends the message that someone is paying attention.
Created more customized promotions. This company knows exactly which china, silver and crystal patterns I like. It would be very easy for them to email their registry clients with promotions that highlight those collections. ("Receive complimentary napkin rings with your next place setting purchase.") Or to suggest other items similar to existing registry selections.
Developing the relationship
Sending out mass email blasts only goes so far. Eventually, marketing fatigue sets in, and subscribers opt out. To stay relevant, marketing campaigns need to cultivate personal relationships with clients and prospects by sending information tailored to them. List segmentation is a key step in creating this level of engagement.
What is your favorite tip for nurturing relationships with email subscribers? Or, what is your greatest challenge in improving the success of your email marketing?