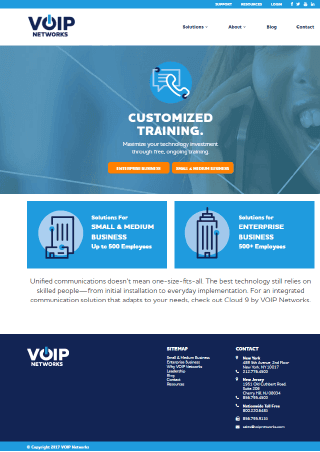 Our Solutions. Your Terms.
VOIP Networks allows you to create a custom communication experience for every team member.
Unified communications doesn't mean one-size-fits-all. The best technology still relies on skilled people—from initial installation to everyday implementation. For an integrated communication solution that adapts to your needs, check out Cloud 9 by VOIP Networks.
People + Technology = A Winning Combination
Don't let our name fool you. While it's true that we provide clients with state-of-the-art communication technology—both hosted and on-premises—our commitment to people is what sets us apart.
Since our founding in 1984, when private bank exchanges (PBXs) ruled the communication scene, we have always put people first. Our customers are our lifeblood, and our employees bear the responsibility for taking care of our clients: recommending the right solutions for their needs, delivering stress-free implementation, and ensuring that the systems continue to support our customers' operations.
In other words, we understand that successful communication technology depends upon professional, helpful people, making certain that the equipment works as intended and as needed. We recruit and reward some of the best talent in the industry, and we empower each team member to act in our customers' best interests.