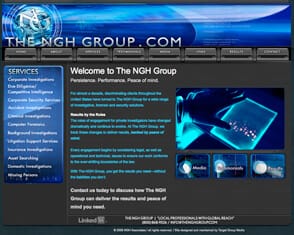 Persistence. Performance. Peace of mind.
For almost a decade, discriminating clients throughout the United States have turned to The NGH Group for a wide range of investigative, forensic and security solutions.
Results by the Rules
The rules of engagement for private investigators continue to evolve. At The NGH Group, we track these changes to deliver results, backed by peace of mind. Every engagement begins by considering legal, as well as operational and technical, issues to ensure our work conforms to the ever-shifting boundaries of the law.
Get the results you need—without the liabilities you don't.
Skilled and Responsive
When you hire The NGH Group, you get the in-house talent and equipment to handle everything from computer forensics, evidence processing, and high-tech surveillance to complex asset searches, financial fraud investigations, and sensitive corporate security matters. We combine the expertise and resources of a large firm with the personalized attention of a small one.
Contact us today to discuss how The NGH Group can deliver the results and peace of mind you need.
Challenge: Distinguish a boutique investigative firm within a crowded competitive field.
Solution: Our intense discovery phase uncovered what set the firm apart, and industry specialists crafted copy as distinctive as the client.