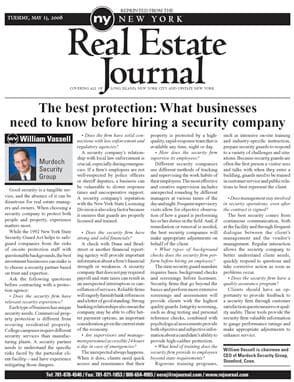 The Best Protection: What Businesses Need to Know Before Hiring a Security Company
Good security is a tangible service, and the absence of it can be disastrous for real estate managers and owners. When choosing a security company to protect both people and property, experience matters most.
While the 1992 New York State Security Guard Act helps to safeguard companies from the risks of on-site protection staff with questionable backgrounds, the best investment businesses can make is to choose a security partner based on trust and expertise.
Ask the following questions before contracting with a protection agency:
Does the security firm have relevant security experience?

Each type of business has unique security needs. Commercial property protection is different from securing residential property. College campuses require different security services than manufacturing plants. A security partner needs to understand the specific risks faced by the particular client facility – and have experience mitigating those dangers.