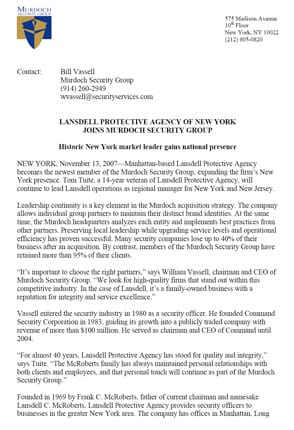 Lansdell Protective Agency of New York Joins Murdoch Security Group
Historic New York market leader gains national presence
NEW YORK, November 13, 2007 – Manhattan-based Lansdell Protective Agency becomes the newest member of the Murdoch Security Group, expanding the firm's New York presence. Tom Tuite, a 14-year veteran of Lansdell Protective Agency, will continue to lead Lansdell operations as regional manager for New York and New Jersey.
Leadership continuity is a key element in the Murdoch acquisition strategy. The company allows individual group partners to maintain their distinct brand identities. At the same time, the Murdoch headquarters analyzes each entity and implements best practices from other partners. Preserving local leadership while upgrading service levels and operational efficiency has proven successful. Many security companies lose up to 40% of their business after an acquisition. By contrast, members of the Murdoch Security Group have retained more than 95% of their clients.
"It's important to choose the right partners," says William Vassell, chairman and CEO of Murdoch Security Group. "We look for high-quality firms that stand out within this competitive industry. In the case of Lansdell, it's a family-owned business with a reputation for integrity and service excellence."
Summary: A security firm acquired a historic market leader based in Lower Manhattan.
Placements: Resulted in feature articles in Security Systems News and Stamford Advocate. Also appeared in Security Director and local publications.