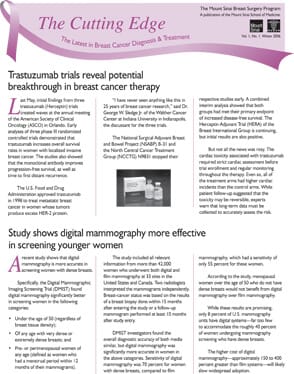 Trastuzumab trials reveal potential breakthrough in breast cancer therapy
Last May, initial findings from three trastuzumab (Herceptin) trials created waves at the annual meeting of the American Society of Clinical Oncology (ASCO) in Orlando. Early analyses of three Phase III randomized controlled trials demonstrated that trastuzumab increases overall survival rates in women with localized invasive breast cancer. The studies also showed that the monoclonal antibody improves progression-free survival, as well as time to first distant recurrence.
The U.S. Food and Drug Administration approved trastuzumab in 1998 to treat metastatic breast cancer in women whose tumors produce excess HER-2 protein.
"I have never seen anything like this in 25 years of breast cancer research," said Dr. George W. Sledge Jr. of the Walther Cancer Center at Indiana University in Indianapolis, the discussant for the three trials.
The National Surgical Adjuvant Breast and Bowel Project (NSABP) B-31 and the North Central Cancer Treatment Group (NCCTG) N9831 stopped their respective studies early. A combined interim analysis showed that both groups had met their primary endpoint of increased disease-free survival. The Herceptin Adjuvant Trial (HERA) of the Breast International Group is continuing, but initial results are also positive.