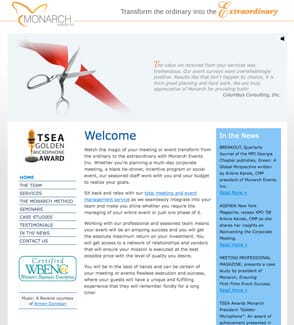 Transform the ordinary into the extraordinary.
Watch the magic of your special event unfold with Monarch Events, Inc. Whether you're planning a board meeting, a multi-day conference or a black-tie dinner, our seasoned consultants work with you and your budget to realize your goals.
Let us help you:
Secure keynote speakers that draw a sell-out crowd.
Develop sponsor packages that shatter fundraising records.
Enhance your organization's image among key audiences.
Sit back and relax with our total event management service. We start with your objectives and create a strategy that transforms your gala or meeting into a powerful public relations tool. Our results-driven planning has one goal: Achieving your benchmarks for success.
Venue selection and logistics planning form only a small part of our service offering. From start to finish, every aspect of your affair will deliver a clear, consistent message: announcements, speakers, sponsors, entertainment, food, favors. Every detail supports your message and mission.