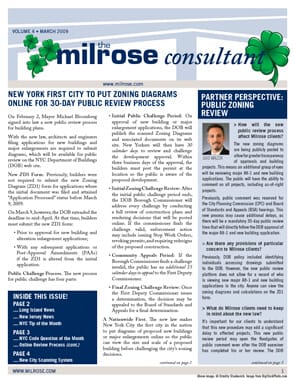 New York Becomes First City to Put Zoning Diagrams Online for 30-Day Public Review Process
On February 2, Mayor Michael Bloomberg signed into law a new public review process for building plans.
With the new law, architects and engineers filing applications for new buildings and major enlargements are required to submit diagrams, which will be available for public review on the NYC Department of Buildings (DOB) web site.
New ZD1 Form. Previously, builders were not required to submit the new Zoning Diagram (ZD1) form for applications where the initial document was filed and attained "Application Processed" status before March 9, 2009.
On March 9, however, the DOB extended the deadline to mid-April. At that time, builders must submit the new ZD1 form:
Prior to approval for new building and alteration enlargement applications;
With any subsequent applications or Post-Approval Amendments (PAAs) if the ZD1 is altered from the initial application.
A Nationwide First. The new law makes New York City the first city in the nation to put diagrams of proposed new buildings or major enlargements online so the public can view the size and scale of a proposed building before challenging the city's zoning decisions.