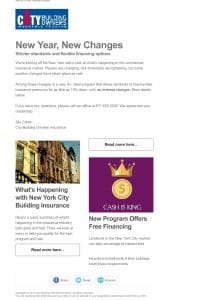 New Year, New ChangesStricter standards and flexible financing options
We're kicking off the New Year with a look at what's happening in the commercial insurance market. Players are changing, risk thresholds are tightening, but some positive changes have taken place as well.
Among those changes is a new, A+ rated program that allows landlords to finance their insurance premiums for as little as 10% down, with no interest charges. More details below.
If you have any questions, please call our office at 877-576-5200. We appreciate your readership.
Stu Cohen
City Building Owners Insurance
What's Happening with New York City Building Insurance
Here's a quick summary of what's happening in the insurance industry, both good and bad. Then, we look at ways to help you qualify for the best program and rate. Read more.
New Program Offers Free Financing
Landlords in the New York City market can take advantage of interest-free insurance installments if their buildings meet these requirements. Read more.