The HARVARD Difference®
At Harvard Protection, you're not just a client.
The company culture—backed by the personal commitment of our president—views you as something far more valuable: our lifeblood.
We hold our employees in this same regard.
We approach both relationships as long-term partnerships. From designing a client- and site-specific security program to recruiting, training and retaining the right personnel, every action by Harvard Protection supports these two critical groups.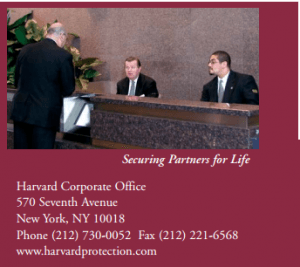 Every staff member shares the firm's customer-centric value system. Our people believe that:
"We're only as good as the job we do today." We provide consistent, high-quality service, so our clients work in a secure, productive environment every day.
"Meeting expectations is not enough." We strive to exceed clients' expectations. You will find our management team, including the president, on site at all hours to achieve that goal.
"No two clients are the same." We customize our service to your needs. Harvard meets individual client requirements day in and day out, and we can accommodate virtually any special request.