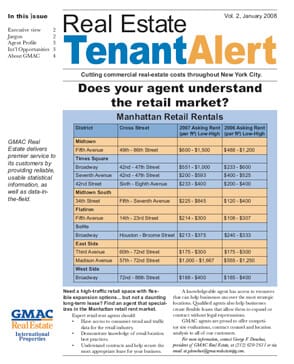 Does your agent understand the retail market?
Need a high-traffic retail space with flexible expansion options… but not a daunting
long-term lease? Find an agent that specializes in the Manhattan retail rent market.
Expert retail rent agents should:
Have access to consumer trend and traffic data for the retail industry.
Demonstrate knowledge of retail location best practices.
Understand contracts and help secure the most appropriate lease for your business.
A knowledgeable agent has access to resources that can help businesses uncover the most strategic locations. Qualified agents also help businesses create flexible leases that allow them to expand or contract without legal repercussions.
GMAC agents are proud to offer competitor site evaluations, contract counsel and location analysis to all of our customers.