Walk into any restaurant these days, and what do you see? Groups of people sitting in a booth or at a table, all eyes shifted down, staring at their smartphones instead of talking to the people in front of them. Most of us have been "that person" at one time or another.
In this day and age, smartphones and tablets cannot be ignored. A few years ago, the vast majority of people read their emails from a computer, but more and more of us are using our mobile devices to access the Internet for just about anything – from reading email and blogs to shopping… and of, course, updating Facebook, Twitter and Instagram.
Mobile marketing statistics comparing over seven years of internet usage for the U.S. show that we now spend 51% percent of our online time on mobile devices, while desktop usage is 42%. On average, we check our smartphones 150 times per day!

____________________________________________________
Source:http://www.smartinsights.com/internet-marketing-statistics/insights-from-kpcb-us-and-global-internet-trends-2015-report/attachment/mobile-internet-trends-mary-meeker-2015-1/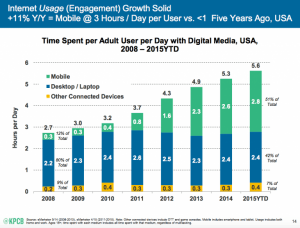 What does this mean for your small businesses and your email marketing strategy?
If your messages aren't easy-to-read on these handheld devices – and your competitors' are – you risk losing customers and sales. You can "up your email ante" in some quick and painless ways to help your emails be seen (and read).
First Impressions
Most mobile devices have email preset to display preheader text. What's preheader text?  It's the small grey text under an email subject line in your inbox. Most people might think it's the first line of text in the email, but it's not. And email senders often overlook this important line of text… the one viewers read before they decide whether to open an email right then, if at all.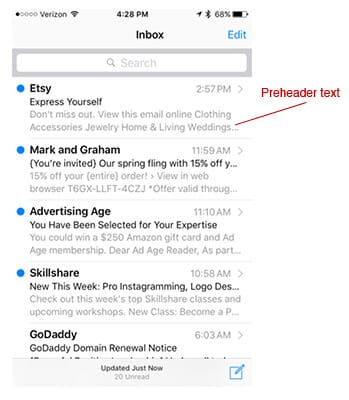 You have only a few seconds to grab your reader's attention, so plan your subject line and preheader text accordingly. Use a strong blurb or teaser to get the reader to continue.
Design with Mobile in Mind
Be sure your email marketing is optimized for mobile devices. Optimization includes reducing image file size as well as resizing images (yes, two different things).
Inc. magazine reported on a recent email open rate study that indicated the ideal subject line length is six to ten words (or between about 40-50 characters, including spaces).
Increase the size of links and buttons to help with clicks. If your reader can't put a finger on the button easily, he isn't going to press it.
Use responsive email templates. And if you're linking back to your website, make sure that is mobile friendly, too.
Don't Get Caught Spamming
Email recipients want to know first and foremost what's in it for them. Sure, it's tempting to just announce, "Save 50% on XYZ for One Day Only!" But if you don't get creative with your subject lines and pre-headers, your email could be flagged as spam, and your recipient will likely not see anyway.
Some of the words you want to stay away from in your subject line include the following:
| | | | | |
| --- | --- | --- | --- | --- |
| Free | Subscribe | Cash | Bargain | Singles |
| Cures | Lose weight | Clearance | Profits | Opt-in |
| Spam | Pre-approved | Make money | $ | Lifetime |
| 50% off | Win | Won | Please read | |
When in Doubt, Test It Out
Before sending your email out, test it to yourself. Does it look good on a smartphone and/or tablet? Do images load quickly and easily? Speaking of images… if they are too large or detract from the text, tweak it. Many email services offer tools to help test your emails on multiple devices and different email service inboxes.
If smart, mobile-optimized email marketing isn't in your 2016 strategy, it should be. It's time to start making the most of the top marketing channel. But don't forget, clean your email list regularly, and always give your readers an easy way to unsubscribe with clearly placed opt-out links. It's not worth getting flagged for spam, which could eventually tarnish your reputation and your brand.
Do you have additional email marketing tips not included above? Please share your experiences in the comments.