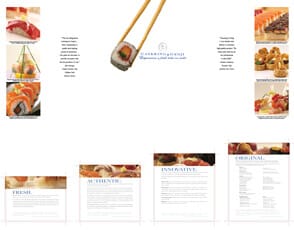 Authentic
Healthy, high-quality Asian cuisine that Western audiences can enjoy every day. Founded in 1997 with this mission and promise, Genji still delivers.
Genji offers the celebrated sushi experience of Japan at prices that allow daily indulgence. Relentless attention to ingredients preserves the exclusive cachet of this Asian delicacy, starting with the rice and continuing with specially brewed soy sauce and vinegar. Genji experts focus on freshness, flavor and nutrition, and they demand the same exacting standards from their partners.
The traditional, yet innovative menu educates Western palates on the rich diversity within the Japanese culture. In addition to popular standards like California and tuna rolls, Genji chefs create signature specialties, including a seared salmon roll with jalapeño mayo and Kobe beef sukiyaki terrine. Dishes featuring classic elements of haute cuisine – such as rack of lamb and duck breast – use authentic Japanese tastes and techniques, successfully marrying East and West.
Established in Philadelphia as a gourmet sushi bar and catering firm, Genji brings Japanese flavor and flair to a rapidly growing audience. The company now provides sushi and Japanese-inspired Asian cuisine from 80 locations in the United States and London.