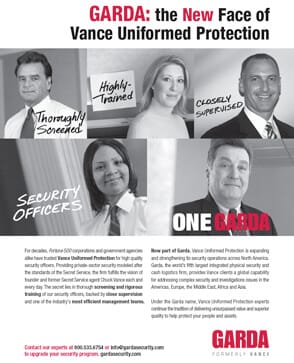 GARDA: the New Face of Vance Uniformed Protection

For decades, Fortune 500 corporations and government agencies alike have trusted Vance Uniformed Protection for high quality security officers. Providing private-sector security modeled after the standards of the Secret Service, the firm fulfills the vision of founder and former Secret Service agent Chuck Vance each and every day. The secret lies in thoroughscreening and rigorous training of our security officers, backed by close supervision and one of the industry's most efficient management teams.
Now part of Garda, Vance Uniformed Protection is expanding and strengthening its security operations across North America. Garda, the world's fifth largest integrated physical security and cash logistics firm, provides Vance clients a global capability for addressing complex security and investigations issues in the Americas, Europe, the Middle East, Africa and Asia.
Under the Garda name, Vance Uniformed Protection experts continue the tradition of delivering unsurpassed value and superior quality to help protect your people and assets.