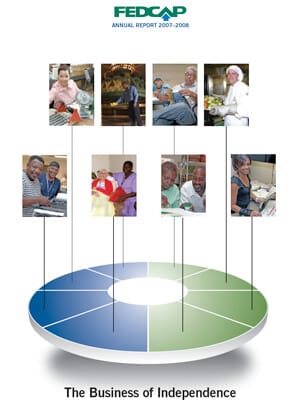 Opportunities for Everyone
Fedcap's mission is to be a premier organization that empowers people with barriers to employment to move towards economic independence as valued members of the workforce. Fedcap achieves this goal by providing a personal and comprehensive range of vocational evaluation, training and support services, as well as employment and placement programs.
Everyone in the Fedcap family – from leadership to support staff to clients – believes all people should have an opportunity to reach their potential in the workplace.
Ability Matters
The founders of Fedcap knew – despite public opinion – that relevant and attainable employment options could help people with disabilities achieve independence and fully participate in society. The organization's first employees received training and worked within Fedcap at jobs tailored to each person's interests and strengths. Whether clerical, manufacturing, or administrative, their achievements set the stage for what would become the focus of the organization in the decades ahead: providing meaningful and appropriate job training so people with disabilities can find sustainable jobs, in Fedcap businesses or in the private sector, and achieve independence.