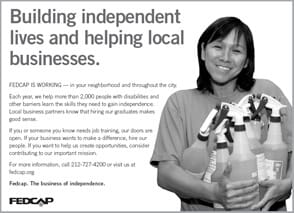 Building independent lives and helping local businesses.
FEDCAP IS WORKING – in your neighborhood and throughout the city. Each year, we help more than 2,000 people with disabilities and other barriers learn the skills they need to gain independence. Local business partners know that hiring our graduates makes good sense.
If you or someone you know needs job training, our doors are open. If your business wants to make a difference, hire our people. If you want to help us create opportunities, consider contributing to our important mission.
For more information, call 212-727-4200 or visit us at fedcap.org.
Fedcap. The business of independence.
Challenge: Introduce a nonprofit organization to two distinct audiences: prospective business partners and residents who need job training.
Solution: Our nonprofit copywriters presented the organization as a community partner that serves both groups through its diverse programs.