Content marketing relies on providing information (content) that solves problems and builds trust with prospects and existing customers alike.
While you'll find an ever-growing number of definitions of content marketing as its popularity expands,  Junta 42 offers one of the most succinct:
"Content marketing is a marketing technique of creating and distributing relevant and valuable content to attract, acquire, and engage a clearly defined and understood target audience—with the objective of driving profitable customer action."
The marketing technique and driving profitable customer action require no further explanation. But other parts of the definition deserve a closer look.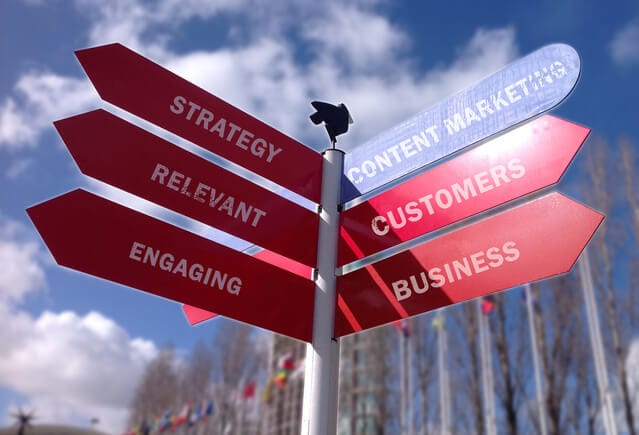 1. Creating and Distributing Relevant and Valuable Content
CONTENT IS BOTH KING AND QUEEN
At the core of any content marketing program is content. Specifically, content that:
Provides information of value to the target audience that solves a problem, establishes you as an authority, and builds trust with your audience.
Is free and readily available without the need for sacrifice or leap tall buildings to obtain it.
Informs, doesn't sell. Unlike traditional direct marketing, content used for content marketing pulls;  it doesn't push.
Is easy to digest and share and provides an easy means to contact youwhen the prospect is ready to engage.
LET ME COUNT THE WAYS
A number of vehicles allow you to create and deliver content beyond website content.  Remember, in a content marketing program, your content needs to suit your target audience's specific preferences.   If you have more than oneaudience, a single web page may not do the trick. So it's smart to use a variety of ways to deliver your content, such as:
By-lined articles
Blog posts
White papers and special reports
eBooks
Podcasts
Infographics
Videos
While copywriting is often a key component of content development, the possibilities for producing, publishing and delivering content are almost endless and growing every day.
I'VE GOT RHYTHM
Because content marketing is a pull and not a push technique, producing follow-on content on a regular basis is important for success. In nearly all cases, one-and-done isn't going to work. By creating follow-on content that's valuable to your audience, you build trust. When your prospect is ready, you'll increase the odds that the prospect will come to you and not your competitor.
The "rinse and repeat" process makes it much easier, as prospects grow to trust you,  to get their permission to deliver additional goodies over time.  Like social media marketing, you're establishing a relationship over time.  Grow your list, grow your business. It also gives you multiple opportunities to convert prospects into customers, instead of a one shot, take it or leave it approach.
2. To Attract, Acquire, and Engage
No one will be attracted to, or want to engage with, content that doesn't appeal specifically to his needs and interests. If no one cares about your content, then content marketing won't build your customer base.  (Thus, no acquisition will take place.  Sorry.)
The other part of the equation involves publishing your content where your target audience will find it.  This key step will greatly improve your changes of attraction, which will hopefully lead to engagement and acquisition.
But first, you need to…
3. Clearly Define and Understand the Target Audience(s)
It's only logical that you need to know your audience before you produce any content.  One of the best ways to develop a complete understanding of your audience is to create personas – one or more sets of characteristics, pain points, content consumption preferences, and demographics that apply to one or more specific groups of customers, including where they're likely to hang out.
Understanding who (and where) your target customers are is just good basic business practice and should be the cornerstone of any marketing effort.  'Nuff said.
Why Content Marketing Works
Content marketing works for many businesses and organizations because:
Both consumers and business buyers are increasingly hungry for information and are accustomed to free, instant, online gratification.
• While the Internet offers plenty of good information, you can also find tons of garbage.   Authoritative, valuable content builds trust.
Today's buyers want solutions without the sales pitch.
The trust, credibility, and authority you can build with content marketing can lessen sales resistance greatly, while giving your prospects more information about what you have to offer.
The trust, credibility, and authority you can build with content marketing can decrease sales resistance, while giving your prospects more information about what you have to offer.  And while it's OK to occasionally deliver a sales pitch, the most successful content marketers do so sparingly as today's consumers have had their fill of ads and spam.
Is it Your Cup of Tea?
Just because content marketing has worked for many doesn't mean it's a good fit for every business or organization. Much depends on your sales cycle, your customer and your products/services.  See Is Content Marketing Right for You?   for some tips on how to determine if content marketing might be a good fit for you.
Getting Content Marketing Help
Still not sure if content marketing is the best choice for you? Need help developing a content marketing program? Maybe you're already using content marketing but want a cost-effective way to hand off the chore of content creation. Learn more about content marketing services from Marketit Write and reach out to us.  You may also want to subscribe to our blog.  And, you can sign up for our newsletter or connect with us on LinkedIn, Twitter or Facebook right from the Connect with Us box on our home pagefor the latest in marketing and copywriting tips and ideas to keep you ahead of the curve.
More on Content Marketing
GET THE WHITE PAPER – NO QUESTIONS ASKED
If we've piqued your curiosity about content marketing,  download our content marketing white paper. It will give you more in-depth insight, it's free, and you don't even have to give us your name to get it.
CONTENT MARKETING TOPICS