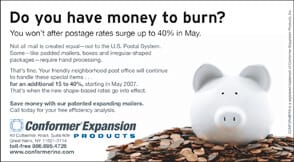 Do you have money to burn?
You won't after postage rates surge up to 40% in May. Not all mail is created equal – not to the U.S. Postal System. Some – like padded mailers, boxes and irregular-shaped packages – require hand processing.
That's fine. Your friendly neighborhood post office will continue to handle these special items… for an additional 15 to 40%,
Save money with our patented expanding mailers.
Call today for your free efficiency analysis. starting in May 2007. That's when the new shape-based rates go into effect.