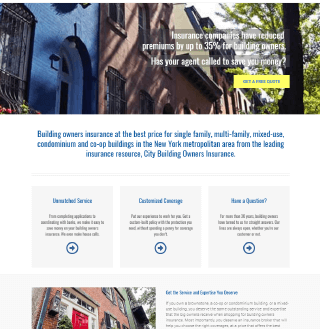 Insurance companies have reduced premiums by up to 35% for building owners. Has your agent called to save you money?

Building owners insurance at the best price for singly family, multi-family, mixed-use, condominium and co-op buildings in the New York metropolitan area from the leading insurance resource, City Building Owners Insurance.
Unmatched Service
From completing applications to coordinating with banks, we make it easy to save money on your building owners insurance. We even make house calls. Learn more.
Customized Coverage
Put our experience to work for you. Get a custom-built policy with the protection you need, without spending a penny for coverage you don't. Request a quote.
Have a Question?
For more than 30 years, building owners have turned to us for straight answers. Our lines are always open, whether you're our customer or not. Ask away.
Get the Service and Expertise You Deserve
If you own a brownstone, a co-op or condominium building, or a mixed-use building, you deserve the same outstanding service and expertise that the big owners receive when shopping for building owners insurance. Most importantly, you deserve an insurance broker that will help you choose the right coverages, at a price that offers the best value.