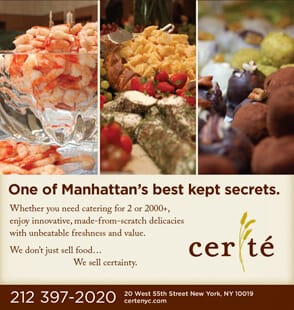 One of Manhattan's best-kept secrets.
Planning an intimate dinner for two? Need to wow 2,000+ at a first-class fête? Enjoy innovative, made-from-scratch delicacies with unbeatable freshness and value.
We don't just sell food… We sell certainty.
We cater from Midtown to Montauk and please palates at Bergdorf Goodman, Carnegie Hall, Columbia University, Douglas Elliman, Major League Baseball, Merrill Lynch, MoMA, Sony Music, Tiffany & Co., Trump Corporation, William Morris Agency… and more.
Sample our fare firsthand. Our café is open for breakfast and lunch, Monday to Friday.