Guest post by: Tej Shah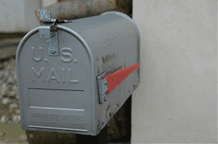 Direct Mail is dying. That's the assessment from a 2009 study by Borrell Associates, which found that advertising revenue from direct mail will plunge by a whopping 39% by the end of 2013. Anyone whistling through the nearly empty hallways of the local post office (if it's still open) can see the effect that email and the Internet has had on the mail industry. But marketers shouldn't abandon a tool that still remains king among upstarts. That's because you can resurrect your direct mail marketing campaigns and get great results with some simple, but successful tactics.

Get Beyond Paper. Most people get those direct mail cards and file them away in the trash. But how do you throw away an orange? We sent oranges, along with some marketing collateral, to our prospects as a way to show off our marketing creative to potential clients. It was a hit. Our prospects couldn't stop talking when our sales folks called them. The campaign showcased our ingenuity.
Show Your Integrity. Online marketing agencies are fond of letting everyone know about the environmental hazards associated with direct mail. But one company flipped the environmental script with its "Pass it On!" campaign. Green Tomatoes, an English taxi service, sent out a mailer about their company but only mailed one per street. The single-sheet card asks residents to write down the taxi company's phone and information and pass the card to their neighbors. The result: An 11% boost in taxi bookings and a company staying true to its environmental roots. Now that's good ROI from word of mouth!
Build Curiosity. Recently one of my vendors sent me a prepaid cell phone in the mail. There was a note included that the phone would ring exactly at 9 a.m. on a certain date. I knew it would be a sales call but the tactic appealed to the James Bond in me and I answered the call anyway. I mean who's not going to answer a phone that rings when you've been told about it in advance?
Raise Your Schwag. A couple of years ago, Denny's Restaurant launched its "All Night Menu", with a direct mail campaign featuring a pillow. Yep, the restaurant wrote its entire menu on pillow cases and sent it to college students. Brilliant. Now young kids are dreaming about the new Denny's menu!
Inject Some Fun. No one wants to open junk mail, but if you wrap your mailer in games, puzzles or something that gets them intrigued, like mailers shaped like Rubik's cubes or intricate fold-out cards that rival the Da Vinci Code, they just might. Objects, music, the use of different tactical surfaces, all are unique ways to dress up your mailers. Do whatever, but whatever you do don't be boring.
Show Don't Tell. Sometimes a mailer works better with more than just words. The nonprofit group Food for the Hungry once sent empty rice bags labeled "50 pounds" to residents showing them what their donation would provide.
Don't Forget the Basics. In the race against oblivion, direct mail managers will try just about anything to stay relevant. But don't forget the basic goal of all campaigns – showcase your product or services, give a good offer, and make it easy to respond.
Keeping your direct marketing fresh is a challenge, but you can do it! And if you have any great DM creative ideas, share them here.
Tej Shah is the VP of Marketing and E-commerce at Blue Soda Promo, an online promotional products company. BSP imprints logos on items like sunglasses, tote bags, stress balls, koozies and stress balls at ridiculously low prices. We make your brand POP!
Would you like to guest post on Market it Write's blog? Please see our Guest Posting Guidelines.